The inimitable Gordon Lightfoot on life, regrets and music
Gordon Lightfoot was born on Nov 17, 1938 in Ontario, Canada. His parents recognised and encouraged his interest in music; his first guest appearance on stage came just before he turned 13, as the winner of a competition for boys whose voices had not broken yet. After a background in barbershop quartets, and as a member of a duo, Lightfoot struck out on his own in the early 60's. He had already written around 75 songs, caught up in the country music scene and folk revival of the time. His music was discovered in 1964 when fellow Canadians, Ian and Sylvia chose two of his songs for their next record. One of these was 'For Lovin Me' – a song Gordon explains during our chat this week.
Soon after, Gordon was introduced to Albert Grossman who at the time was managing Peter, Paul and Mary. The trio then recorded the same two songs as Ian and Sylvia and enjoyed considerable success with them. Marty Robbins also recorded Lightfoot's Ribbon of Darkness' . Albert Grossman signed Lightfoot and under that arrangement he recorded five albums for United Artists, four studio albums and one live album.  Later Gordon split from Grossman and formed his own company. From 1970 through to 1998 he released 14 more original albums. In 2002 Gordon Lightfoot suffered an almost fatal illness that saw him recuperating for nearly 2 years.  He tells us more about his brush with death in our chat.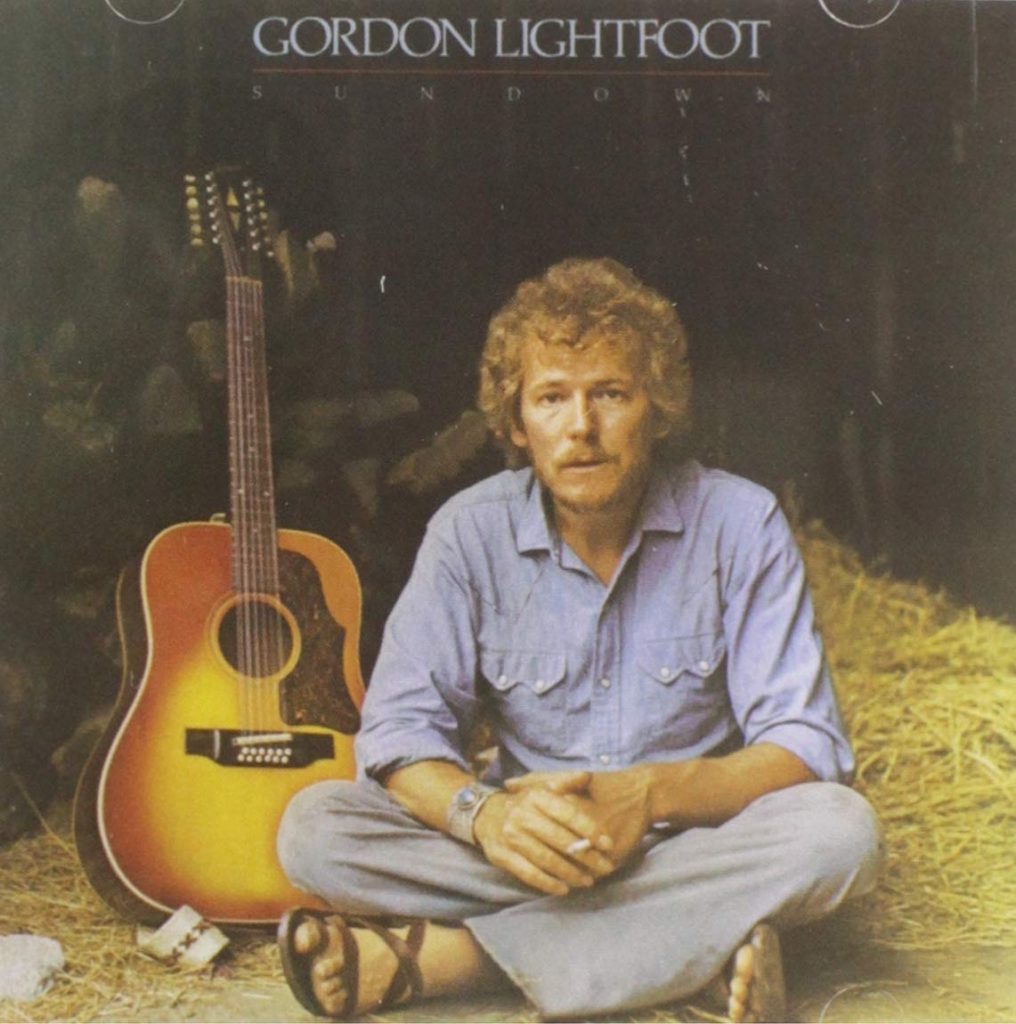 Although he had toured the US and Canada in the 60's, Gordon's chart appearances were in Canada only. However following the release of his first album, a disc jockey began to play one of the tracks on the radio. It was not the title song but it took the world by storm. 
LIf You Could Read My Mind became one of the most frequently covered songs in popular music history. After some harder edged music in the early 80's, Gordon returned to his acoustic roots. Gordon Lightfoot has 4 Grammy nominations and 17 Juno awards and was inducted in the Canadian Music Hall of Fame in 1986. Seven of his albums have gone 'gold' and he has an absolutely enormous fan base. It's no wonder. Gordon's music and his personality are both irresistible. Check him out for yourself during our chat this week. At 83 years of age, he's just as amazing as ever.
The brilliant Elvis Costello discusses what makes him and his music tick
Born Declan Patrick MacManus, Elvis Costello is an English musician, producer, author, TV presenter, and actor. He was born in 1954 and began his career in London's pub rock scene in the early 70's. Later he became part of the first wave of the British punk and new wave era. Elvis has won several awards, including a Grammy and has twice been nominated for the Brit award for Best British Male singer. In 2003 he and his band The Attractions were inducted in the Rock and Roll Hall of Fame.
Costello picked his stage name when he signed his first record deal. His manager suggested a name changed and Costello went with Elvis Presley's first name and his father's stage name, Costello. He legally changed his name in 1977 and then changed it back in 1986. Costello has been married 3 times. At the end of his first marriage he had an affair with the then-girlfriend of singer Todd Rundgren and the mother of Steven Tyler's daughter Liv Tyler. In 86 he married his second wife and in 2003 he married singer Diana Krall at the home of Elton John. They have twin sons together. 
His latest band is Elvis Costello and the Imposters and their most recent release – their sixth since October 2020 is titled The Boy Named If. It's been described as an album full of urgent immediate songs with bright melodies, guitar solos that sting and a quick step to the rhythm. I asked Elvis what it was about him that made these songs urgent and immediate. Here's what he had to say.
He's an incredible man isn't he? Here's a track from the latest album below. Enjoy!
Peter Frampton's ups and downs lead to latest album and tour
Peter Frampton rocketed to fame in 1976 with his now classic album ,Frampton Comes Alive. It was a double LP that reshaped songs from his first 4 albums into versions that became era-defining hits. The success of that album was so great that it overshadowed his early days as a hotshot guitarist in Humble Pie. (see below). Over ensuing decades Frampton proved he was a survivor and worked a lot with his school friend, David Bowie. Peter tells me about their friendship and the kindness that Bowie showed him during our chat.
Frampton was born in 1950 in the town of Beckenham in Kent in the UK. He started playing guitar at the age of 8, learning classical music for several years. He dropped out of school to join a mod-pop group called The Herd and had his first taste of success. From there it was to Humble Pie with Small Faces frontman Steve Marriot. When he left them in 1971 it was straight on to a solo career which saw him perform on George Harrison's All Things Must Pass, contribute to Nilsson's Son of Schmilsson.
Peter Frampton was starting to command huge attention. He had an energy and stage presence that were irrefutable and a back catalogue of songs that were ready to go. Peter explains the energy he is consumed by on stage during our chat. He says it was the secret ingredient in the success of Frampton Comes Alive. In June 1978, Frampton was involved in a near-fatal car accident in the Bahamas whereby he sustained a concussion, multiple broken bones and muscle damage. To make matters worse, he and his longtime girlfriend also ended their relationship. He recovered from the accident but slid into a brief stint of drug abuse. Many of the songs he wrote at this time were about the breakup and his state of mind.
In the 80's Peter appeared directionless. He cut his hair but the new image failed to enhance anything. When David Bowie took him on tour for the Glass Spider tour, his life and career was revamped. Peter tells me how grateful he was to his school friend for believing in him and giving him the opportunity again to play in arenas and stadiums. In the 90's Frampton toured and recorded with Bill Wyman & the Rhythm Kings and Ringo Starr's All-Star Band. Eventually he made a new album and in 2006 the album Fingerprints landed him a Grammy Award. He was inducted into the Rock N Roll Hall of Fame in 2014 as his creativity flourished.  
In 2019 Frampton announced he was suffering from the progressive muscle disorder inclusion body myositis. The diagnosis instigated a farewell tour and coincided with the release of All Blues, a record where he dedicated himself, to covers of his favourite classic blues songs. Check out the interview (and the album) where some of the songs are discussed. His most recent release is Frampton Forgets The Words – a sensational instrumental album. Peter tells me how difficult it is to make instrumental music interesting.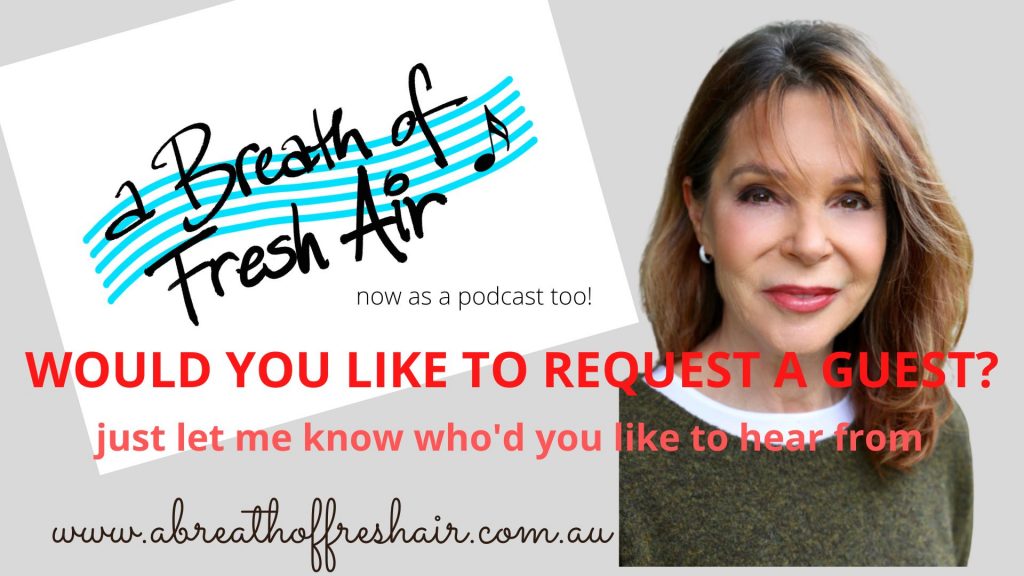 I just wanted to thank you most sincerely for supporting my show and seeing it through to this milestone, 100th episode. Doing all the work and putting it together each week would be absolutely no fun at all if there was no-one listening. A huge thank you also goes out to my most loyal and wonderful Brazilian audio engineer, Ricardo Branco Rogoski who has put in hours and hours of tireless effort to build this with me. And to my mentor who always stands over the top ready to advise, Allan Craig – a huge thank you for your encouragement and ability to put up with my obsession. We have all grown this little show to what it is today and I could not be more proud of what we are offering up for your enjoyment. 
If you happen to be reading this and feel like sending me a note, I would love to hear from you. That would absolutely make my day. Thank you again listener whoever you are and wherever you are listening to A Breath of Fresh Air.