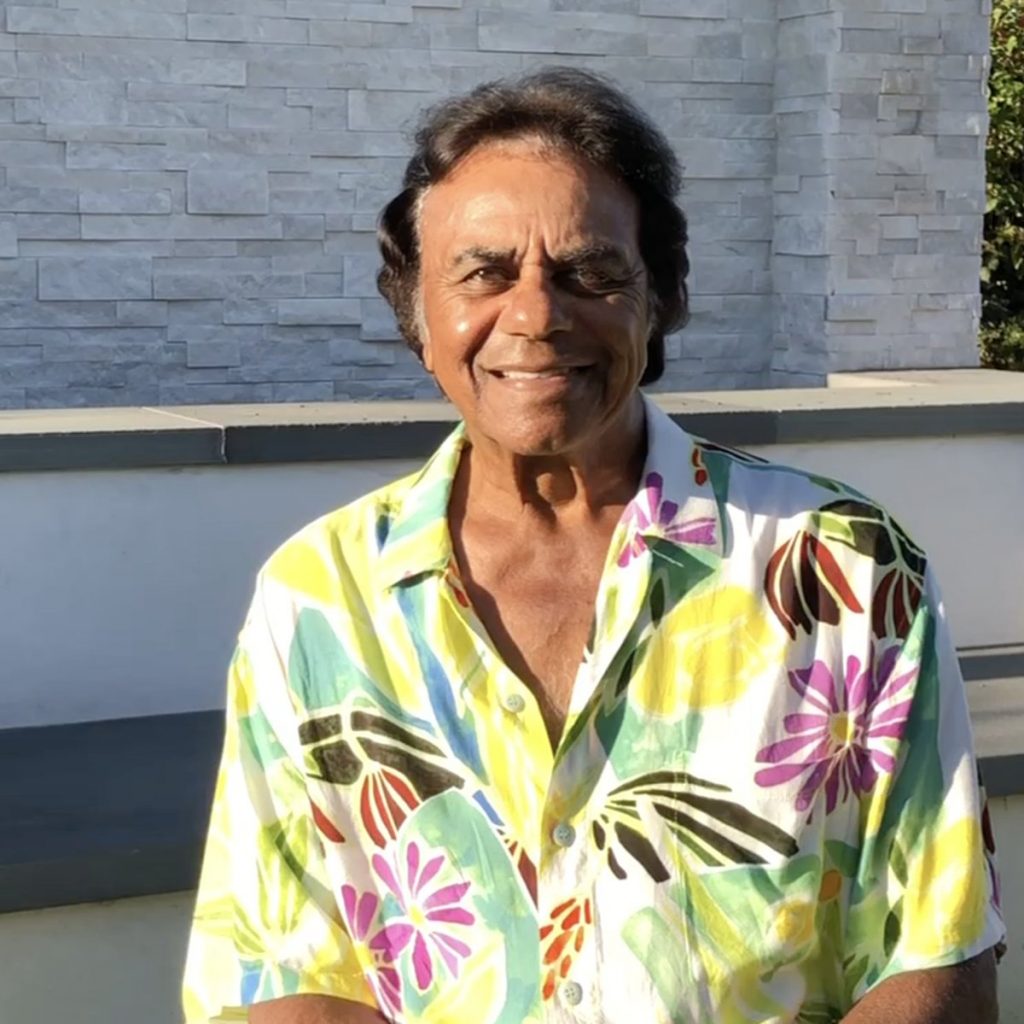 At 86 Johnny Mathis still loves to sing - and he practises his craft every day!
Legendary singer Johnny Mathis is celebrating 66 years as a Recording Artist. He's known as The Voice of Romance and is a sublime vocalist whose approach to pop music eclipses passing fads and trends. Mathis has performed songs in an incredible variety of styles and categories — from music composed for stage and film to golden era jazz standards, contemporary pop hits, and holiday music, all of which has assured his reputation as one of the most enduring vocalists in music history. Best-known for his supremely popular hits like "Chances Are," "It's Not For Me To Say," and "Misty", Mathis has recorded close to 80 albums, 6 Christmas albums, and has sold millions of records worldwide. During his extensive career he has had 3 songs inducted into the Grammy Hall of Fame, achieved 50 Hits on Billboard's Adult Contemporary Chart, ranks as the all-time #6 album artist in the history of Billboard's pop album charts, and is the originator of the "Greatest Hits" album industry tradition. He has received 5 Grammy Nominations, and in 2003 he was given the Lifetime Achievement Award from the Academy of Recording Arts and Sciences. Johnny continues to be Columbia Records' longest-signed artist, and to fans of all ages The Voice of Christmas.
I was fortunate to get some time on the phone with the charismatic crooner. Take a listen to what Johnny has to say in segment three of this week's show.
Colin Hay's new music is better than ever
Men at Work founder, Colin Hay has a new album out this week called Now and The Evermore.  The title track features a guest appearance from Ringo Starr on drums. Colin says is a reminder to self to make the most of the time he has left on this earth.
English band Paper Lace on before and after that hit record.
Paper Lace was a classic one-hit-wonder band. In America anyway. In the UK they were a classic two-hit wonder. Formed in 1969 in Nottingham, England by Cliff Fish and Phillip Wright, Paper Lace was one of hundreds of pop bands in England looking for the big time while slogging their way through small club gigs and brief tv appearances. As you'll hear during my chat with Phil Wright, their big break came in 1974 when their version of the tear-jerking bubblegum tune "Billy, Don't Be a Hero" won top honours on a nationwide tv talent quest show. The band rode that song all the way to the top of the UK charts but were aced out of any sales in the US by a group called Bo Donaldson & the Haywoods who released the same song. 
Get the whole story from Phil by watching my zoom interview with him here.
Canadian Bluesman Colin James on the latest album - 'Open Road'
From the prairies of Saskatchewan to sharing the stage with arguably the greatest and most influential guitarists of all time, Colin James still remembers those words of advice given to him by the late, great Stevie Ray Vaughan. Colin James has taken those words to heart. His career has spanned over 30 years, with a track record that includes 19 studio albums,  7 Juno Awards, 27 Maple Blues Awards and multi-platinum record sales. Meet Colin James here
Colin heading out on tour with Buddy Guy